On the 1st of March 1945 Gerry's logbook records a 20 minute "air test" in Lancaster JN-F (NG322), piloted by their Flight Commander, Sqd/Ldr Jack Bailey.
John Mathers Bailey DFC* RNZAF was CO of "C" Flight, an Irishman who had emigrated to New Zealand before the war and taken up farming in the Manawatu. He was known to the airmen as Jack or Paddy, a popular leader and a very capable pilot who had already completed a tour with the squadron on Wellingtons and Stirlings in 1942-43. He had only recently distinguished himself on the 22 February Osterfeld op' where he had continued to lead the squadron in its bombing run over the target despite suffering extensive flak damage to his aircraft, JN-Z "Zebra". For this he would be awarded a Bar to his DFC.
He had created squadron history on the 29th of January when he and his crew took his regular Lancaster NE181, JN-M "Mike", also known as "The Captain's Fancy", on her 100th operation to Krefeld.
The photo above (from the NZBCA archives, Alan Scott collection) was taken as the crew boarded the aircraft at dispersal that cold and foggy afternoon.
NE181 was the first, and as it turned out, the only Lancaster in 75(NZ) Squadron to make the "ton". In fact she is believed to be first RNZAF aircraft to complete over 100 operations.
Jack Bailey is pictured below in the cockpit on the occasion of the aircraft achieving 101 operations, which he and his crew flew to Wiesbaden on the 2nd of February.
Some accounts state that NE181 was retired at 101 and replaced with another "Mike", but members of Jack Bailey's crew insist that they flew her on one more op' on the 16th of February to Wesel. For some reason, the op's tally marked on the nose was never increased from 101.
Pilot Ed Ware crew and his navigator Colin Emslie also insisted that they took her on three more op's; to Heinrich Hutte on 14 March, to Regensburg on 20 April and the squadron's final op' of the war on 24th of April 1945 to Bad Oldesloe. The Ware crew believed this to be her 104th , probably adding their three to the 101 op's marked, and took commemorative photos captioned accordingly. This was probably actually her 105th .
She is then thought to have flown on at least one Operation Manna food supply drop to Holland and seven POW repatriation trips from France.

The story goes that after the war, the NZ crew and officers on 75 (NZ) Squadron, led by Jack Bailey, tried to bring this Lancaster back to New Zealand, but the NZ Government would not meet the cost. Sadly NE181 was scrapped in 1947.
Back in 1964 however, the French government generously donated a Lancaster to the people of New Zealand, NX665, which is now cared for by the NZ Bomber Command Assn (NZBCA) and the Auckland Museum of Transport & Technology (MoTaT) in its world-class Aviation Display Hall. A small group of volunteers, many Bomber Command veterans, worked on the restoration of the Lancaster back to wartime Mark III configuration.
One of those volunteers was Johnny (Jack) Wood. Unfortunately Johnny passed away before the restoration was complete, but years later his crewmate Doug Williamson would carry on the connection.
We have a lot to thank "the Wednesday Bomber Boys" for – all the costs of restoration and building a hangar to house the aircraft were achieved via fund-raising and donations. These days the MoTaT Lancaster is in beautiful condition, still lovingly cared for by the NZBCA and MoTaT.
A few years ago, the NZBCA made a case to MoTaT to partly rectify the government's short-sighted decision back in 1945, by marking NX665 on one side to represent our most famous Lancaster.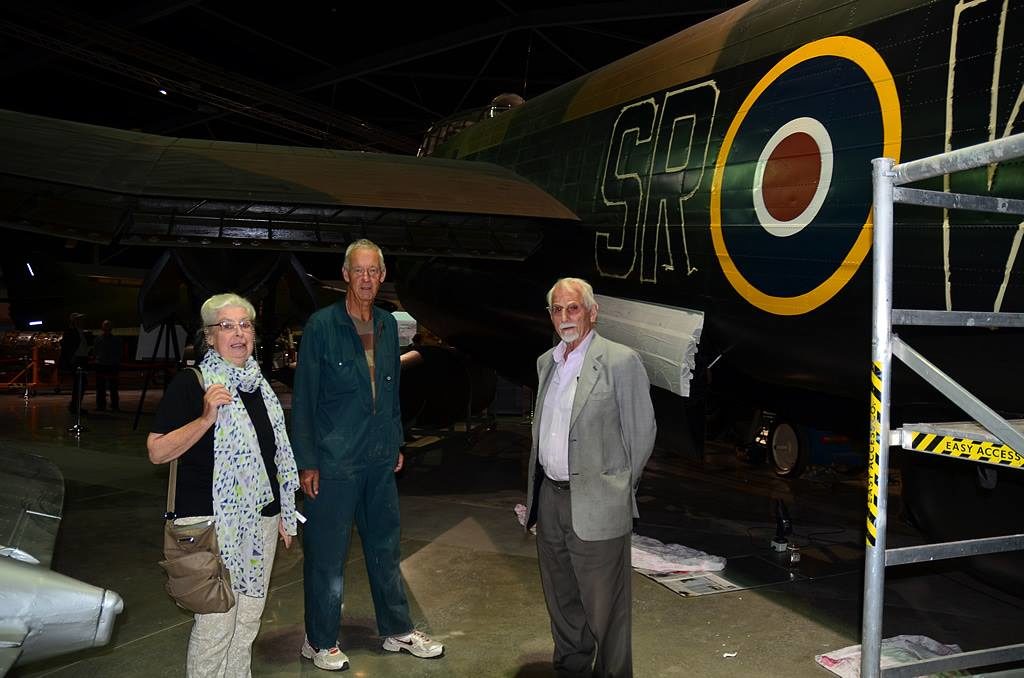 I was lucky enough to be involved in Peter Wheeler's small team researching and applying her history and markings so that her story could be told as accurately as possible – she had fascinated me ever since I first came across her and Jack Bailey's exploits.
On 8 June 2014 a special service was held to unveil new nose-art and markings on the MoTaT Lancaster in Auckland, NZ, to represent NE181 JN-M "The Captain's Fancy", in recognition of her significance to New Zealanders in Bomber Command, and the original efforts to bring her back to New Zealand.
Doug & Janet Williamson and I attended, another small link between the aircraft and the JN-Dog boys.
It was and is pretty special to have The Captain's Fancy, Jack Bailey and the boys of 75(NZ) Squadron recognised in such a meaningful way.
Ake ake kia kaha